Had my pre-chemo doctor's appointment yesterday morning and while at the pre-appointment bloodwork lab, discovered that I was scheduled for a procedure that afternoon which wasn't on either my or Matthew's calendar. The lab check-in people didn't have the access to determine what the procedure was so we had to wait until we saw my doctor to find out it was for my first lumbar puncture chemo infusion.
The doctor was ready to postpone it, as he could tell I wasn't mentally prepared for it–I'd been expecting to go back to work after my morning appointment with him–but Matthew and I talked it over and figured it made more sense for me to just get it over and done with.
The reason I need to have lumbar puncture chemotherapy is because blood cancers like lymphoma and leukemia can spread to the brain and cerebrospinal areas, with some–including ones that present in the nasopharyngeal area like mine–having a higher likelihood. However, most chemo drugs can't penetrate the blood-brain barrier, and because of that, the cerebrospinal area is considered a "sanctuary" location for cancer cells. So even though my original lumbar puncture biopsy was clean, it's possible the sample missed cancer cells if there aren't very many. As such, it's standard procedure to administer chemo drugs via lumbar puncture to cases like mine in addition to the regular cycles of chemo cocktail I'm on. I'm slated to have a total of four of these lumbar puncture chemo sessions.
One down, three to go.
The procedure itself was kinda ouchie at first, felt like the big nerve in my lower back and down my leg was being twanged and pinched repeatedly…which, I guess it was. But the nurse/doctor (I'm not actually sure if it was a nurse practitioner or a doctor doing the procedure) was extremely responsive, communicative, and kind, and she saw I was in pain–both from the change in my breathing and my yelp–and switched to the smaller (black v. yellow*) needle. That switch made all the difference. It went from unpleasantly uncomfortable to hardly more than a minor prick. She also made a note in my folder to use the black needle on my lumbar punctures from now on.
Also learned an interesting factoid. When administering chemo via lumbar puncture, they take out exactly as much spinal fluid as chemo drug that they plan to inject in order to maintain the fluid balance. The spinal fluid they took out they're sending to check for cancer cells. Waste not and all, I guess.
Little sore still this morning, but at least no spinal headache. Went back to work today as this drug (methotrexate) isn't expected to have the same level of side effects as the rest of my chemo cocktail, and I'll be out of the office after tomorrow's round three infusion blitz through the new year.
–
*Isn't it so apropos that the needle color indicators are bee colors?
Originally published at EugieFoster.com. You can comment here or there.
This:
In case you missed it on Twitter and Facebook, I just finished my first felting project!  I used stash wool, but some of the yarn wasn't 100% wool so not everything felted.  Oops!  However, I still kind of adore this patchwork Wizard's hat:
Specifics: I used Anne Carroll Glimour's "The Enchanting and Magical Witch Hat" pattern,  on size US 11 needles with worsted weight yarn. I knit the adult non-slouchy hat, but added an extra row after each decrease.
That:
I just turned in proofs for TIN SWIFT,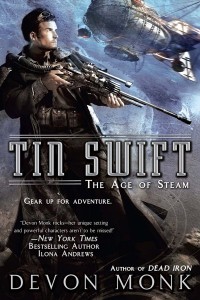 book #2 of the Age of Steam series.  What's that, you say? You thought TIN SWIFT came out a couple years ago? You are correct, it did!  However, my awesome publisher is releasing it in paperback format (smaller, cheaper!) and I had a chance to fix a couple typos. Yay!  You should see TIN SWIFT in paperback format this June, which means you will be able to get both DEAD IRON (book #1) and TIN SWIFT (book #2) in paperback.
Next up on my writing plate is to go through proofs for STONE COLD.  These are due back on the New Year, which means STONE COLD will be out in stores on April 1st 2014.
Proofs, by the way, are the last chance I get to see the book and to catch typos, extra spaces, and etc.. At this stage I'm not allowed to revise or rewrite anything. It's just a last pass where I (and a second proofreader) attempt to comb out those rascally extra periods and typos.
Other Things:
1. My newsletter will be going out this weekend!  This first newsletter has an exclusive excerpt from STONE COLD, a free Shame and Terric short story, a knitting thing, a new book announcement, and other fun stuff.  Subscription button is on the side bar of my web page.
2. I am hand making some gifts this holiday season. I'd love to show you what I'm working on, but can't share the projects until after I give them since I know a couple of my gift-receivers read this.  (I see you hiding over there behind that fake mustache).
3. I also hope to squeeze in some relaxing holiday reading before the new year but haven't decided what to read yet.  Decisions, decisions. Anyone else snuggling up with a good book?  What are you reading that you're loving on?
Mirrored from Devon Monk.
#
Yukon Cornelius and Bumble surveyed the carnage. Icicles of blood littered the field. Blackened pine trees still smoldered, turned to brittle black skeletons by elfin flamethrowers.
The calves had all survived, but two adult reindeer and an elf lay dead. Bumble let out a howl of dismay. Cornelius patted the abominable snowman's fur-matted, thick-muscled arm. Bumble had grown fond of Santa's herd over the years, and they had adopted him like a big, not-too-bright brother.
"It's ugly all right," said Cornelius. "Doesn't look like the snowman had any strategy beyond smashing whatever he could find."
Mrs. Claus' stern voice buzzed from the speakers in Cornelius' yellow earmuffs. "Can you track him?"
A microphone braided into his moustache carried his answer back to the Pole. "Of course I can track him. I'm Yukon Cornelius! You just make sure Jack Frost holds his breath a little longer so he doesn't bury the trail. The last thing we want is a blizzard covering Frosty's tracks."
Frosty hadn't gotten away unscathed this time. According to the reports, the flames had thinned his armor and set fire to his broom. The snowman had been forced to flee, belly-sledding away at speeds neither elf nor reindeer could match.
As Cornelius walked, he checked to make sure his silver and gold-inlaid revolver was fully loaded. He had grown up in the northern wilderness, and had faced everything from angry yeti to rabid reindeer. These days, his beard and moustache were more gray than red, and he wasn't quite as quick to pick a fight, but he was still twice the hunter and tracker of any man within five hundred miles.
Bumble sniffed the air. His lips peeled back in what would have been a fearsome snarl, if Hermie the elf hadn't pulled his teeth all those years ago. The flat, too-white dentures just weren't the same.
Cornelius dropped to one knee and jabbed a finger into the ice-crusted snow. It tasted of pine, blood, and soot. Relatively fresh. They couldn't be more than an hour behind. "Don't you worry. We'll find this snowman and be home in time for dinner!"
"Just find him," Mrs. C said sternly. "Do not engage."
"Understood." He pulled his pick axe and shifted his belt, making sure the revolver was in easy reach. The point of that axe could punch through stone. It would crack Frosty's frozen armor like a nutcracker through a chestnut. He might not be planning on a fight, but he'd be a fool not to prepare for one.
A second set of tracks intercepted Frosty's trail. Cornelius jabbed his axe into a human-sized footprint, then licked the tip. The tracks were fresh, and from the residue, they weren't local. Elf-made boots had their own sugar-sweet aftertaste. These tracks tasted like old rubber.
He touched his moustache. "Frosty's not the only one wandering our woods."
A less alert man would have missed the sharpening of Mrs. Claus' words. "His master?"
"Won't know that until I find them. Yukon Cornelius doesn't make assumptions."
The tracks did follow the same path as Frosty. In several places, the human prints indented the smooth slide of Frosty's path, meaning the human had followed behind the snowman.
Bumble grabbed the top of Cornelius' head, and turned him gently to the right. Unfortunately, the beast's oversized fingers also prevented Cornelius from seeing what Bumble was trying to show him.
"I can't see through your hairy mittens, you big oaf!" He pried the hand free and looked around.
The pine trees here were thin and undecorated, unlike the woods closer to the Pole. A short distance ahead was an icy crater, lightly dusted with snow. It looked like an enormous ice cream scoop had gouged the ground. In the fading sunlight, Cornelius could make out something sparkling in the center.
He readied gun and axe and moved closer, checking the trees to either side for movement. "Looks like a bomb went off here."
The tracks continued on, passing the crater a ways to the side. It didn't look like they had stopped. On a hunch, Cornelius approached the edge of the crater and jabbed his axe into the snow. He circled slowly, squinting and tasting. He had gone halfway around when his tongue confirmed what the snow had hidden – the human had been here. Three, maybe four days back.
"It's some kind of ornament," he said. "Crystal, maybe. Busted all to pieces now."
"Don't touch it. I'm sending Rudolph and a pair of elf researchers your way. Can you tell what the ornament used to look like?"
Something in Mrs. Claus' tone made Cornelius' moustache itch. Bumble's hackles raised, and his eyes spun to and fro, searching the shadows.
"I'd say a star. Or maybe a snowflake."
"Get back to the North Pole now."
He spun, gun raised. "There's nobody here, Mrs. C. Just me and Bumble. And we still don't know where Frosty—"
The snow exploded as if the snowman's name had summoned him up from an icy hell. He was larger than Cornelius remembered. Without missing a beat, Cornelius put two bullets through the center of Frosty's head. "Found him!"
Frosty roared and leaped, broomstick raised like Death's scythe, but Bumble tackled him from the side. They fell into the snow, rolling like cats. Bumble was all claws and fury and angry growls, a regular Bumble rumble.
Cornelius charged in. "Get out of the way, you overgrown hairball!"
Snow swirled to his left. So focused on trying to line up a shot that wouldn't hurt his friend, Cornelius ignored the movement a second too long. By the time he spotted the figure stepping out of the snow as if through a curtain, it was too late.
"Clever girl," he whispered.
"Cornelius, what is it?" shouted Mrs. Claus.
He spun, throwing his axe and raising his pistol, but his limbs had already begun to slow. Cold seeped into his bones.
He saw Bumble jump to his feet and start toward him. Frosty clubbed Bumble's knee with his broomstick. With an angry howl, Bumble seized Frosty by the head and hurled him through the air at one of the pine trees. The pine tree broke with a crack like bone, and Frosty went down.
Bumble charged to Cornelius' aid. Blood matted his fur, and one of his ridiculously huge eyes spun in circles, a sure sign of concussion in bumbles.
"I'm not afraid of you, beast." The woman's words grated like death itself. Ice flew toward Bumble's face, sharp as shards of broken glass.
Bumble howled again, but he kept coming. However painful his physical injuries, his grief and determination were stronger. Bumbles were loyal to the end, though it was unusual for a Bumble to show such loyalty to humans and reindeer and elves. As long as Cornelius was alive, Bumble would fight to the last breath to save him.
What had an old prospector ever done to deserve that kind of friendship?
As his strength ebbed and his hands stiffened, Cornelius forced his wrist to bend, until he was peering down the barrel of his own pistol. "Get out of here, you dumb Bumble!"
With Bumble's anguished cries echoing through the woods, Yukon Cornelius forced his frozen finger down on the trigger.
Mirrored from Jim C. Hines.
Let me explain.
No, there is too much. Let me sum up.
While I was in therapy yesterday morning, one of my National Institutes of Health contacts called, a research nurse who's handling study recruitment. They left me a voicemail saying the Principal Investigator on one of the studies I am interested in would accept a CT scan from from my treating hospital within the last 30 days in lieu of trying to schedule a CT at the NIH facility on my arrival. (Grudgingly so, I gather.)
I knew I had an active CT scan order in the system at my treating hospital. The original intention of this order was for me to have my two-month screen in January — we'd been proactive about getting into the system. So after thinking this through, I called my treating hospital. I found out that my oncologist is on vacation next week. If I wanted the scan done and released to me in order to get a copy to send to NIH, it had to be done right away. Otherwise it would get stuck in my oncologist's queue during their absence, and be of no use to me in my current timeframe. I wound up talking to Radiology scheduling, who said they could take me immediately if I could get there right away. (As it happened, in the course of this conversation I was driving north on I-5 very near the facility. Yes, I was using a headset.)
I cancelled my already-rescheduled lunch date with
Jersey Girl in Portland
and popped by to have the CT scan on a right-then basis. Afterwards, I went upstairs to Oncology and politely asked about having a stat read request put on the scan. I was also trying to figure out how to cue my oncologist to release the scan to me as soon as possible, as they do not have clinic hours on Tuesday. The team at the Oncology unit told me to call back into the triage line an hour or two after lunch and see about getting a message to my doctor.
I then spoke to the NIH nurse, telling them I'd gotten the CT done on-demand and was hoping for the results to be released that same day so I could get a disc from my treating hospital's Imaging Library and express it to them. A rather hilarious conversation ensued.
NIH Nurse: "My jaw is on my desk. You are the most self-directed patient I've ever dealt with."

Me: :: laughing :: "That's a polite medical term for 'pain in the ass'."

NIH Nurse: "Nooo… That's a compliment."
They also asked me if I could get a brain MRI to check for mets that might have crossed the blood-brain barrier. This is quite rare in my type of cancer, but it is possible. I told them I was dubious about getting that ordered here in Portland, and we agreed they'd schedule the brain MRI at NIH, probably for the afternoon of 12/30.
I got the appropriate NIH shipping address for delivery of the Imaging Library disc, then focused on contacting the clinic about getting my oncologist engaged to review the new CT scan and release it to me ASAP.
As it happens, my oncologist had already seen and released the scan promptly, even before I had reached out about having them read it. They emailed me and asked me why I'd had the scan early, was it for the NIH studies? I replied that it was, and mentioned the brain MRI request. Meanwhile, the Imaging Library was cooperative about releasing a disc to me immediately. They only needed a 45-minute lead time. So
Lisa Costello
took me back over to the hospital complex to score the disc.
About then, my oncologist went ahead and ordered the brain MRI. (All of this was happening more or less in realtime at this point, while Lisa drove us back to to the hospital to go up the hill to the Imaging Library.) I got on the phone once more with the schedulers, who actually found me an opening this coming night. It's awfully hard to get an MRI on demand, as there's a long waiting list for access. I have a 9:45 pm brain MRI up the hill in the main hospital, which should take about 45 minutes. There is a stat read request on that order as well.
My oncologist has agreed to watch their queue Thursday morning, and release the MRI results to me ASAP. I will then make the request to the Imaging Library and get it back out to my contact at NIH that same day for Friday delivery, if my luck holds.
This should improve the intake process at NIH as they will have everything they need to proceed, or to scrub me from the study if they don't like something in the imaging files.
By the time I got home again yesterday evening, I was so exhausted I physically hurt. I was also having at attack of the chills, which may have been exhaustion, a reaction to the CT dye, a system issue stemming from my advancing cancer, or all of the above.
As
mikigarrison
said, I was blasting through the walls with my ray gun. Not sure I've ever dealt with medicine in realtime on a non-emergency basis.
I want to note, with respect to my recent comments about constant crisis and never being able to hold a schedule, that yesterday was a perfect example. I've now had to reschedule Jersey Girl twice due to unexpected medical requirements. I spent most of yesterday on the phone, running around town, or actually in a procedure room, on a day that had no medical activity on my calendar when I woke up other than my therapy appointment. I'd actually thought to have an easy day.
This is how my life works lately.
As for the substance of yesterday, while I feel pretty darned accomplished, I also recognize that all of these victories are fundamentally futile. The CT results were frankly quite depressing. We're fighting rearguard actions in a war the outcome of which was confirmed last spring. This does not stop me from grabbing every chance I can, wringing what I may from each passing day. But last night when I was in bed shivering under extra blankets and feeling logy and strange, I kept wondering if all this was worth it.
So far the answer is still yes.
Yesterday was very much the far side of nuts.
Interval enlargement of nearly all of the pulmonary and hepaJc metastases.
That's doctor speak for "some of these tumors have almost doubled in size in the last six weeks, and a few of them have grown so much they're fusing together."
Nothing whatsoever surprising about this, but it is discouraging as hell.
Here's the radiologist's summary:
Pizza the Hutt. The Star Wars Shop in Aberdeen, WA.
Photo © 2012, 2013, Joseph E. Lake, Jr.
This
work
by
Joseph E. Lake, Jr.
is licensed under a
Creative Commons Attribution-Noncommercial-Share Alike 3.0 United States License
.
Your Wednesday moment of zen.
It's been a pretty good year for me, productivity-wise. I've published four short stories, a novella, a novelette, a piece of flash fiction, and a novel. And I've written and delivered a whole bunch of stuff that's not coming out until next year...

...and my dance card for 2014 is officially full. That's a pretty nice feeling right there.

If you want to find any of my work from the past year, here's your handy year-end list for doing so.

Shattered Pillars, the second Eternal Sky novel, came out in March. This central-Asian epic fantasy has been pulling in great reviews and reader response. I also made an intemperate blog post about being the first writer of an epic fantasy trilogy in history to deliver the third book on time. And I did it, albeit by the skin of my teeth. Steles of the Sky is scheduled for April of next year, and the ARCs are already in the hands of reviewers.

My other stand-alone book of the year was Book of Iron, a novella from Subterranean Press, the prequel to Bone and Jewel Creatures. These stories are also in the Eternal Sky universe, set about four hundred years later and in a different part of the world. In this one, Bijou and her friends race through poison Erem in order to stop a foreign Wizard from making a very, very bad mistake.

The flash fiction was an untitled piece for Popular Science, published in the July 2013 issue, dealing with interstellar travel and the way space smells.

The novelette was audio-only, in METAtropolis III: Green Space. It's called "Green and Dying," because everything is improved by Dylan Thomas, and it's a caper story about an attempt to liberate some IP from a seastead. Of course, something goes... really, really wrong.

And then there's the short stories!

From Fireside III, "Form and Void," a science fiction story about mean girls and hurt girls and space exploration and Io. I'm awfully proud of this one, and you can read it for free here. (I think this one is technically a 2012 publication, but it happened very late in the year, and you can actually read it online now.)

From Dark Faerie Tales, "Samarkar's Tale of the Three Genjia," in which one of the Eternal Sky protagonists retells a fairy tale. You can read this one for free as well. Obviously, this too is an Eternal Sky story.

There's a second Eternal Sky story out this year: "The Ghost Makers," in Fearsome Journeys. It's about a Gage and a Dead Man who discover they have an enemy in common, and what they do about with that knowledge.

My last story for 2013 is "The Governess," which was published in Queen Victoria's Book of Spells. It's about an unlikely alliance between two very different women... and some other things.






Current Mood:

productive
On Saturday, December 14, 2013 - at 7:11 AM (Central - that's 1311 GMT or 9:12 PM Beijing time), China's Chang'e 3 lander and its Yutu Moon rover (aka "
Jade Rabbit
") touched down on our cratered companion world. We haven't seen another soft-landing on that cratered surface since 1976, with the last Russian Luna spacecraft (Luna 24):

Click the image to see the Wikipedia article on the history of lunar landings.

Jade Rabbit touched down in Sinus Iridum ("Bay of Rainbows"), the northern part of Mare Imbrium ("Sea of Showers") in the Moon's Northern Hemisphere.
CHINA IS ON THE FRAKKIN' MOON, FOLKS
.
Here's the Chang'e 3 lander saying goodbye to its Yutu rover:
Check out this great ITN (British news) video with footage of the whole historic mission:
Readers of this blog are probably wondering why I haven't written about this until now. Well, beyond the usual excuses (final papers are arriving fast and furious, plus other obligations), I was just plain astounded by the news:
China
- the last communist-dictatorship mega-nation - is the one that has returned to the Moon, and it's a part of their military (whereas NASA, though tied to the US military, is independent). This is huge in so many ways, folks: No one has explored the Moon (except by orbiting or
crashing into it; the latest hard-landing was NASA's LCROSS in 2009
) since the 1970s. No one has ever set foot on the Moon except for Americans, and that ended in 1972 with Apollo&nbsp17, the program that ignited passion and excitement for space like nothing before with photos like this one of John W. Young on the frakkin' Moon:

Click the image to see the excellent Wikipedia article on the Apollo program.

The US Apollo program (and the Soviets counterpart) was motivated less by passion for space exploration than a desire to prove our technological superiority to the world. When the Soviet program faltered - after soft-landing the first rover - the steam went out of US exploration, thus beginning the era of the space-truck Shuttle. Besides the early excitement and a couple of catastrophes, most people didn't even know when a Shuttle was launching. On the other hand, the Chinese have long-term goals at play. Are they as interested in exploration as they are in displaying their techno-feathers? Do they primarily aim to prove their capability to do things no one else has done for 40 years? Or are their intentions darker?
Jade Rabbit is only the latest step in China's methodical space program. They have enjoyed a series of triumphs in crewed space flight during the past decade, including launching humans into orbit and docking two ships in space. China lost its first (and only) Mars probe soon after launch in 2011 - it's important to note that this was due to a Russian booster failure, not a failure of Chinese equipment - but both of its Moon probes (the previous Chang'e 1 and 2, named for the luminescent goddess who lives on the Moon), like its manned space missions, were successful. They plan to send another rover just like this one soon, then a robotic mission to return lunar samples by 2018. Assuming these missions are successful, they plan to send taikonauts - Chinese astronauts - to walk on the Moon a few years later. After that, who knows? Moon bases? Taikonauts leaving footprints on Mars? Chinese flags flying over a multitude of Solar System objects?

Fan-art Photoshop of an Apollo photo.

It all began with a race, then Apollo's tone hit it just right, involving everyone in what NASA cleverly forged into a human - rather than American - endeavor, thus igniting a passion for space that spread across the whole world:
With images like the first Earthrise seen from lunar orbit, taken by astronaut Bill Anders through the porthole of a frakkin'
spaceship
:
Until that moment, humans traveling to other worlds was "science fiction." When that image made its way back to Earth, the world had forever changed. Putting humans into space made it real for us; rockets and satellites (starting with the Soviets' 1957 Sputnik) and rovers were damned impressive, and blew us away. But putting
people
into space transformed the endeavor into something real, something we might do or have done, if only our lives had gone a little differently. Rovers after that have improved so much, and NASA was so brilliant with its Spirit and Opportunity Mars rovers, that we can identify a little with them. But if the Chinese put a person on the Moon, they'll once more re-ignite the human imagination. If they set foot on Mars? I can't even imagine how powerful that would be to the human psyche... and how terrifying to some: the Red Menace on the Red Planet.
Ultimately, if you're like me, you hope that the Chinese determination spurs a more enduring human emigration beyond this tiny world's fragile surface. I'll leave you with this quote from
James Gunn
, perhaps the foremost Asimov scholar:
"In 1973 [Asimov] pointed out that
we were living in a science fiction world, a world of spaceships, atomic energy, and computers, a world very much like the world that he and other science fiction writers had been describing a quarter-century before. It was a world typified by the first Moon landing, four years before. 'Science fiction writers and readers didn't put a man on the moon all by themselves,' he told me, 'but they created a climate of opinion in which the goal of putting a man on the Moon became acceptable
.'"
Hear, hear. As much as I feel conflicted saying this, Thank you, China. Let's hope the rest of the world feels the spurs to reach up and explore beyond our little neighborhood once again.
(
and now a couple of big images
Collapse
)
Chris
HUGE space news:
Lisa Costello
, Dad and I met with my palliative care doctor. There was some discussion of my sleep issues, now essentially gone because I am off the Regorafenib. We also told them about our efforts at clinical trials. They were less interested in the medical details than in how I was experiencing the process. They talked about people who sometimes had better outcomes without entering chemo or trials at all. I pointed out that I had to be doing something or I'd go nuts.
Also had a long discussion of hospice options and how the place and manner of my death would impact
the_child
. They provided a list of names of local hospice providers they held in high regard. Naturally, when I checked later, none of these providers were in-network for my health insurance.
We also talked about the difficulty of predicting life expectancy in my situation. The palliative care doctor said there are two main factors in their experience.
The completely unpredictable factor is when and how some catastrophic event occurs. For example, organ failure, or an opportunistic infection. There's no way to anticipate the timing of such an event, though once it happens, I will likely pass very quickly.
The more predictable factor is rate of change, in effect. As they put it, if I am seeing significant changes in health or functionality that take place over the course of months, I have months yet to live. If I am seeing significant changes over the course of weeks, I have weeks yet to live. When the changes take place over the course of days, I have days yet to live.
Where these two factors intersect, clearly enough, is that unpredictable catastrophic event changing my health literally overnight, or over a day or two. At that point, my remaining life is likely measured in days.
This was both fascinating and sobering, and also one of the most useful descriptions of the dying process I have ever encountered. It neither gives me hope or incites despair, but it does grant me some perspective.
The palliative care doctor wants to continue to see me as I progress through the clinical trials process, every two or three months. I told them we would keep them informed. Our current followups are to check my hospice benefits with my health insurance carrier, figure out which Portland area facilities are in-network, and schedule some site visits. I'll schedule another visit with my palliative care doctor once we know more about my clinical trial schedule.
Yesterday,